Name: Annie Tevelin, 30.
Found: Outside of Co-op 28, 1728 N Vermont Ave. in Los Feliz.
L.A. Story: Originally from the suburbs of Virginia.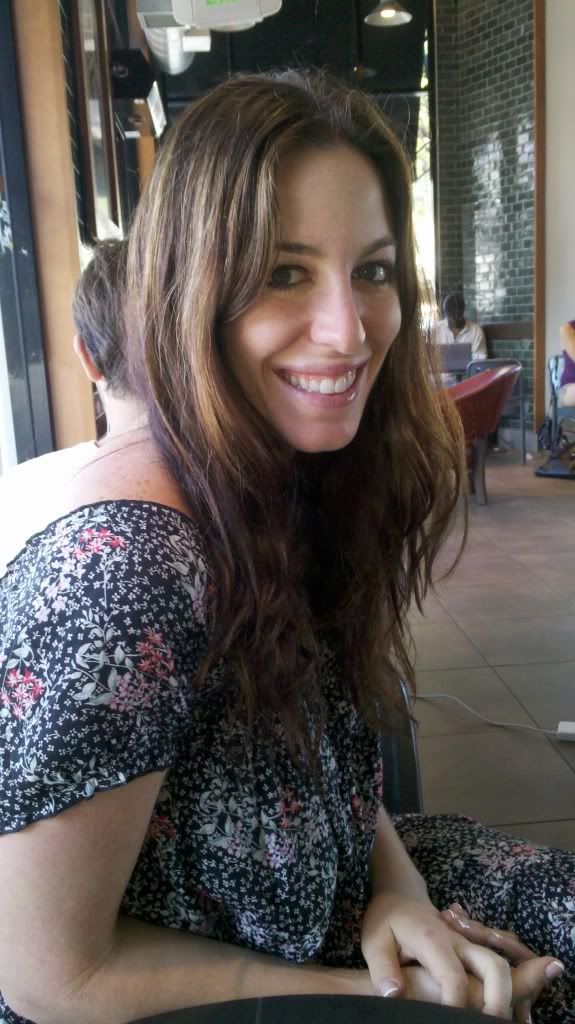 "For me, a great moment of my day is putting on make-up. I've done it every day. I take time to do it; not everyone has the patience for it and not everyone gives a damn about it, but it's something I love. I leave the house looking good and feeling good. If everyone went around feeling good, then the world would be a much happier place."
Make-up artist Annie Tevelin isn't a walking, breathing beauty magazine, but she spends almost all of her time thinking about how to make faces look good.
Cosmetics can make people look and feel pretty, she said, and that is important, but putting on a little eye shadow and taking care of one's skin can lead to a deeper, fuller appreciation of life. It's these feelings that are the catalysts to self-care in Tevelin's view.
"The more you care for yourself, the more you feel your life," she said. "My hope is that putting on something that looks good, feels good — then maybe skin care will lead to a bath and then maybe that bath will lead to a book in the bath."
And that's it — a fuller life through self-love and care, one step at a time.
After years of experience working as a professional make-up artist for Lancôme, Tevelin has founded her own business, SkinOwl, and has started to create her own like of eco-friendly, all-natural skin care products.
In part, her product line is born from her love of make-up, but she has also never forgotten all of the horrible experiences she's had as a consumer, dealing with products and people in the cosmetics industry.
Approaching that make-up counter at the mall can intimidating, no matter how old you are, she said, and too often, people are going home with products that aren't suited for their skin types.
"Three years as someone with persistent acne and truly being lied to just so these associates could make a sale was just exhausting for me," Tevelin said. "I would walk out of what I thought were an expert's hands and my skin would get worse.
"I think that a face is the first thing that people see and a lot of girls don't ever want to leave the house just because of how their skin looks. And I think that their acne could have been healed a long time ago if they would have had the right advice."
A woman who said she has always had dreams of being an entrepreneur, Tevelin has found a way to take her own struggles and use them as the foundation for a business.
To bring people the advice they're looking for, another branch of Tevelin's business includes consulting for her products. She offers a service called a "Face Off," for which she will actually visit clients in their homes and digs through their make-up cases or vanity drawers.
In these Face Offs, Tevelin looks at her client as an individual and helps to determine her needs and priorities. For instance, Tevelin can look at what skin type the client has and answer questions about the products the customer is already using — she even brings knowledge about the business practices of many cosmetics companies, such as whether they test on animals. If the client's blush, say, or foundation doesn't match what she is looking for or what Tevelin recommends for her skin type, Tevelin tosses it in the trash and replaces it with something else.
Tevelin also takes a look a product's ingredients to see if they are safe.
"Skin is an organ and it breathes in and out. So when you put on a product that is full of mineral oils or mica, the skin is breathing it in and it can go into the blood stream," she said.
"Ninety-nine percent of the people looking at the back of the box have absolutely no idea what they're looking at. Titanium Dioxide, Mineral Oil, Purple Peutu — people are like, 'OK, cool, yeah, that's what it takes to make that product.' But when you look deeper and research all of these things, there's ingredients hidden inside of those ingredients."
Tevelin said there are currently bills being drafted by U.S. legislators that would require cosmetic companies to post warnings on product packaging any time a chemical could be detrimental to consumers' health. Some of these concerns include developmental toxicity, reproductive toxicity (products that can harm a woman's uterus or ovaries) or products that can turn normal cells into cancerous cells.
Tevelin frequently checks the Environmental Working Group website, EWG.org, to keep tabs on what are considered to be the most dangerous products on the market. A database of about 60,000 different products, every listing receives a numbered score between 0 to 10 based on its toxicity.
"I've found that a lot of the products that people are attached to in my experience are 8′s and 9′s and 10′s," she said, meaning they're often among the most toxic cosmetics available.
"I don't want to name names, but there are some cult products, number one-selling products across the nation and they're like 8′s and 9′s."
Her aim with SkinOwl is to go back to the basics and create something simple and timeless with her cosmetics: the little black dress of skin care, as Tevelin puts it. Something that won't be tossed to the side for the newest hot brand or product.
"I want it to come with the idea that the skin care represents an appreciation of life and it is built with ingredients that are unique and special the same way that you should feel unique and special. In order to preserve yourself, you have to take care of yourself."
Tevelin's business' website is set to launch in the next six months and she has just recently released her first skin care product: SkinOwl Argan Infusion. She's also been organizing public events and beauty classes, where she is able to physically put her products on people's faces.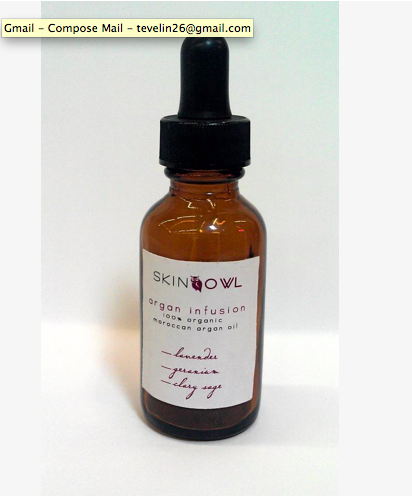 SkinOwl Argan Infusion
At this time, consumers are able to buy her product (and future products) through Tevelin herself, and eventually, through her website. She is, at the moment, considering a multi-level marketing model similar to how Mary Kay and Avon are sold.
For more information about SkinOwl, request to join the company's exclusive Facebook page at @Artistry by Annie Tevelin.
Annie Tevelin's Beauty tips for everyone:
-The number one most important thing to look good and feel good is to get 8 hours of sleep. Period.
-Drink two liters of water a day. Especially if you have acne or extremely congested skin.
-Change your pillow cases, clean your phone, clean your steering wheel.
-Wear a great moisturizer, eye cream and sun screen.
Tweet This Post